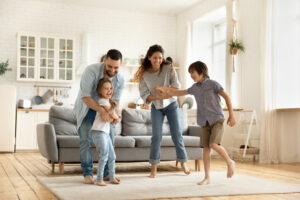 When you need attorneys who practice family law, it is essential to work with those who have an abundance of knowledge and experience. After all, family is perhaps one of the most important aspects of anyone's life, so you want to be sure you are very well-represented. Many issues fall under the umbrella of family law, and many are intertwined. With this in mind, you want attorneys who know the ins and outs of all aspects, so you can rely on a single practice to meet your needs. In today's blog, your Milford, CT attorneys discuss the family law representation we can provide to all couples in Connecticut.
Custody Matters
We know that navigating custody can be difficult, stressful, and generally unpleasant. Because of this, you want a firm and experienced attorney working on your behalf. They can handle the vast majority of issues that come up, so you are well-insulated from the stress and turmoil associated with custody matters. We are very familiar with custody matters, and we can make the process easier and less burdensome for you and your children. We know the required documentation and nuance to sort through custody issues, and we are always happy to be in your corner, fighting for what is best for you and your family. At the end of your day, your children are the most important, and we are dedicated to doing right by them. 
Child Support
Like custody matters, dealing with child support issues must put your children's best interests first. We believe in acting with compassion to all parties, no matter how difficult and painful it may be for you. We view our jobs as ensuring that your child's needs are met and that you are receiving the best possible representation while amid the issue. Various factors can evolve even after initial child support terms have been established, so we are here to help support you as updates are made and the circumstances of your life shift. We are proud to provide ongoing support for our clients no matter what comes up.
Adoption
Growing your family is immensely exciting, but dealing with the adoption process is often daunting and stressful. From being approved for adoption to finding the right match to moving forward is difficult and requires vast amounts of effort. When working with an experienced team, you can rest easy knowing that the whole process can evolve much more smoothly. We have many years of experience helping all types of couples adopt, and we are confident in the assistance we can provide to you. 
Contact Us To Learn More About Our Family Law Services
We passionately represent all of our clients, and we work hard to help them through any legal situations they happen to find themselves in. Contact The Law Office of Larracuente & Goulden, LLC in Milford, CT by calling 203-951-6688 to schedule your initial consultation with our team and speak with our office today.