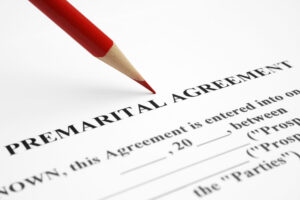 Ensuring that you and your family are protected when it comes to pursuing a legal matter is a passion our team holds strongly. Indeed, we recognize all too well that the core principles and values our nation touts are not always upheld in the most civil manner, and as such, we strive to provide a voice for our clients so as to ensure they are represented properly. Though many aspects of the law may come with a negative connotation, our team is ready to set the record straight and help you in any way that we can. In today's blog, your Milford, CT attorneys discuss misconceptions and myths surrounding premarital agreements.
They are Expensive
It goes without saying that family law in and of itself is a complex area of study. After all, it involves any and all matters related to a family unit, and specific areas can include anything from adoption to custody, child support, divorce, probate, and so much more. With this in mind, it can sometimes be difficult to find the right attorney to represent your needs. Fortunately, this is where our team comes in to help.
When taking a look at family law, specifically marital concerns, one of the biggest processes that receive a bad rep is creating a premarital agreement. Indeed, premarital agreements – also known as a prenup – are a way to define your married roles as a couple when you are about to enter a civil union.
Further, there is a negative association that they are extremely expensive to implement. On the contrary, most are relatively simple and straightforward. Compared to the cost of litigation, this definition of marital rights is relatively low cost. Give our team a call today to learn more.
Only Needed if Divorce is Imminent
Another misconception about premarital agreements is that they are only needed or relevant if a couple is planning to divorce down the line. While mainstream Hollywood has glorified the prenup as a necessary precaution to protect one's assets, the truth of the matter is that it can help guide processes during a marriage as well. For example, a prenup can define who is in charge of bank accounts and finances, how marital disputes will be handled, and how a couple will handle parenting.
They Only Benefit the Spouse with the Most Assets
As we have mentioned before, mainstream Hollywood and the media have contributed to the negative connotation that follows a premarital agreement. Further, agreements detail all aspects of a union, and most agreements that are too one-sided can and will be thrown out in court.
Schedule Your Consultation
To learn more about the ways we can help you with your family law matters, contact The Law Office of Larracuente & Goulden, LLC in Milford, CT by calling 203-951-6688 and schedule your consultation with our team today.