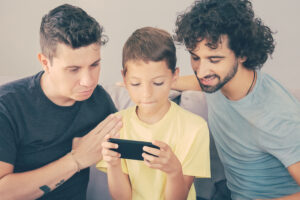 It has been a tragically slow process for the LGBT community to start gaining the same rights as the rest of the country. While much more progress needs to occur, today in Connecticut, the community is finally gaining similar family rights that opposite-sex couples are. Although federal law stipulates this, gaining actual legal representation is slower-moving, and many have had times finding adequate representation. Luckily, we are able to provide family law services to the LGBT community. In today's blog, your Milford, CT attorneys discuss the representation we can provide to same-sex couples.
We Handle Adoptions
Since 2017, LGBT couples have had the same rights to adopt and expand their families as same-sex ones do. We know this process overall is daunting and stressful — being approved for adoption, finding a great match, and moving forward once you do take a lot of effort. By having a knowledgeable legal team on your side, the entire process can move much more smoothly. We have many years of experience helping couples adopt, and we are confident in our abilities to provide you with helpful, compassionate insights into what to expect and how to see everything through. 
Navigating Custody
Same-sex couples deal with the exact same family issues that all couples do, and custody decisions are no different. They are a fact of life, so when you find yourself in this sort of situation, you should be able to rest easy knowing you are getting the best possible representation. We are very familiar with this facet of family law, and we can make the process easier and less stressful for you and your children. We know the required documentation and nuance that is required to sort through custody issues, and we are always happy to fight for what is best for you and your family.
Child Support For LGBT Couples
When dealing with matters that affect the well-being of your child, it is crucial to act with compassion and their best interests in mind. We understand that this is a very difficult subject and can often be painful. We view our jobs as making sure that your child's needs are met and that you are receiving the best possible representation when navigating the issue. A lot of factors can develop even after initial child support terms have been established, so we are here to help support you as updates are made and your life's circumstances evolve.
Contact Us To Learn More About LGBT Family Law
We are here to help the LGBT community navigate all aspects of family law. We passionately represent all of our clients, and we work tirelessly to help them through any legal situations they happen to find themselves in. Contact The Law Office of Larracuente & Goulden, LLC in Milford, CT by calling 203-951-6688 to schedule your initial consultation with our team and speak with our office today.