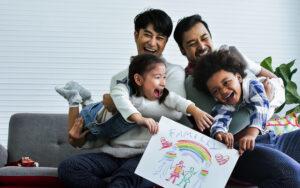 Laws and protections for LGBTQ families are still evolving and changing, which means when faced with common legal concerns, like custody, adoption, marriage, and divorce, you need experts in your corner. At The Law Office of Larracuente & Golden in Milford, CT, we have a team of talented attorneys ready to help you and your family, regardless of your orientation or your background!
A New Era
A lot has changed in a relatively short amount of time. In the years before 2015, same-sex couples simply didn't have the rights and protections in the realm of family law that opposite-sex couples did. Fortunately, that has changed. In 2015, the Supreme Court legalized gay marriage in every state, and in 2017 ruled that same-sex couples should enjoy the same rights when it comes to adopting children. But despite these changes, laws are still developing and changing, and many same-sex families are not receiving the same level of protection that opposite-sex couples enjoy. Which is why our team at Larracuente and Goulden are here to help!
Our Experience and Expertise
We understand that many families are not receiving the same level of protection as others, and that family law is often a complex and difficult arena to navigate. Which is why our patients are happy to help same-sex couples, offering professional and knowledgeable representation and a full understanding of family law in the state of Connecticut. Regardless of your background or your sexual orientation, we're here to assist in matters like divorce or separation, securing custody and child support, or with adoption. We can help with drafting premarital agreements too. We are ready to work with LGBTQ families with their legal needs, staying by your side through every step.
Custody, Divorce, and More
Do you have a family law matter that you simply cannot afford to handle without proper representation? Then give us a call to schedule a consultation. From marriage and separation agreements, to custody and adoption, we can take on complex legal situations and make sure you and your family are being properly represented. We can help with financial concerns too, protecting your assets. If you have any questions, or if you would like to speak to a skilled and compassionate LGBTQ family law attorney, then give us a call today. You can find our number below, and we're ready to help you!
LEARN MORE ABOUT OUR FAMILY LAW SERVICES TODAY!
We can help LGBTQ families in Connecticut with their legal needs, including adoption, custody, marriage, divorce, and more. To find out more about our services and gain the assistance that your family needs, please give us a call at The Law Office of Larracuente & Goulden, LLC in Milford, CT at (203)951-6688 today.