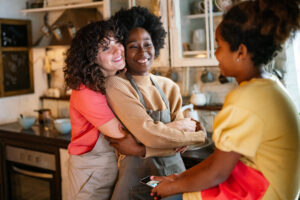 When you are looking to increase your family through adoption, take some time to speak with a legal professional who understand the environment. While this can be an important step for any family, there is even more significance if you are in an LGBTQ+ relationship. The United States Supreme Court has ruled that you have the same rights as straight couples, but you want to have an extra level of support to make sure that your freedoms are upheld.
Here at The Law Office of Larracuente & Golden in Milford, CT, we understand the vital nature of having an advocate by your side during the adoption process for LGBTQ+ couples. Speak with our team to understand more about your rights, as well as how we work tirelessly to keep everyone on the right side of the law. Even though the court has ruled in your favor, the workers involved in your case still might hold prejudice against you, so work with a trusted attorney in keeping your rights at the forefront!
The Supreme Court Is Clear, You Have Equal Adoption Rights Under Federal Law
Up until 2017, the rules surrounding same-sex adoption in the United States was handled by a collection of state laws. This led to a disjointed set of policies, so six years ago, the court ruled on the subject. Ultimately, the case ended up giving equal adoption rights to LGBTQ+ families. Regardless of your orientation or gender status, you cannot legally be prevented from adopting a child due to this reason.
Then last year, our Congress fully repealed the harmful Defense of Marriage act, giving further weight to your rights. This law forces all states to respect a valid marriage license from another area in the country, preventing certain states from discrimination.
While You Have Rights, Take The Time To Find An Attorney Who Understands The Law
When you and your partner decide to adopt a child, it can be helpful to have legal counsel by your side through every step of the way. Even though the Supreme Court has issued a very clear ruling in regard to the subject, there still may be people involved in your adoption that want to see you fail.
Fight back against homophobic discrimination when adopting a child with the help of a knowledgeable attorney. Talk to our team of LGBTQ+ supportive legal professionals about your needs, and we can start to work on your plan!
Learn More About LGBTQ+ Adoption Rights With A Dedicated Connecticut Lawyer
For more information about your rights in adoption, speak with a member of our team at The Law Office of Larracuente & Goulden, LLC in Milford, CT at (203)951-6688. Learn more about how we can help you through the process!