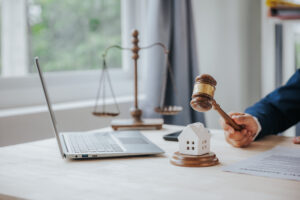 When you and your spouse decide to split up, it can be a stressful situation for everyone involved. In addition to the emotional strain that can come alongside ending your marriage in the eyes of the court, the state of Connecticut has additional requirements. Take some time to talk to a knowledgeable team of attorneys about your divorce, and gain a more complete understanding of your options and your responsibilities.
At The Law Office Of Larracuente & Golden in Milford, CT, we want to help you to reach a positive outcome when you and your partner decide to call it quits. Talk to our team of dedicated legal experts about your situation, and learn about your choices at each step of the divorce process. The state of Connecticut requires an equitable division of assets, but you and your former spouse have the ability to craft an agreement through negotiation, and you want a skilled team during this process. Another area where divorcing couples may struggle is in the creation of a parenting plan, which outlines the responsibilities and rights of each parent. Every divorce is different, so talk to a team of helpful and understanding divorce attorneys!
Separating Your Shared Wealth Can Be Difficult During A Connecticut Divorce
One of the areas in which divorcing couples can struggle is in the division of finances. In the state of Connecticut, the court requires what is known as an "equitable" division of assets, and it is important to keep that term in mind. This does not necessarily mean an equal split of everything you own, but it can be a helpful guideline. By working together, you and your former partner have an opportunity to best decide how your resources are divided, so talk to our team and learn more about the power of positive negotiation.
When You Need to Talk About Custody, Have A Skilled Lawyer On Your Side
In addition to the discussion of separating wealth during your divorce, you may need an additional negotiating step if you share children with your former partner. One of the ways that you can work to keep your child-raising goals at the forefront is with a document called a parenting plan, also known as a custody agreement. This document outlines certain rights and responsibilities of each parent, including your schedule of visitations. Keep things a little more flexible with a positive parenting plan!
Learn More About Connecticut Divorce With Our Team In Milford, CT
When it is time to discuss divorce, talk with a dedicated attorney about all of your options. To learn more about your rights during the divorce process, give us a call at The Law Office of Larracuente & Goulden, LLC in Milford, CT at (203)951-6688.