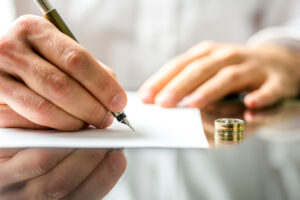 When you need to dissolve a marriage, it can be a highly stressful situation. In addition to the emotional toll on your life, navigating the legal side of the equation can be a struggle for people, so it is important to find stability where you can. The assistance of a knowledgeable and caring legal team during this time can help you to know which steps to take, while keeping your rights at the forefront of the discussion.
At The Law Office of Larracuente & Golden in Milford, CT, we are here to guide you through the process of a divorce. The law in Connecticut differs slightly from other states, so be sure that you are speaking with a team that is well-versed in the law here in the Nutmeg State. When you need the assistance of legal counsel, reach out to our team to learn about your options. We keep your goals in mind, while being sure to give you the information you need about your path.
Connecticut Recognizes An Equitable Split Of Finances During Divorce
One of the primary reasons that you need an attorney during your divorce is due to the complicated action of separating your assets and liabilities. In Connecticut, all of your finances are shared between you and your spouse, whereas some other states recognize individual property. This means that you cannot shield your home or your vehicle from the proceedings. A judge will have the final determination in this separation, and the state requires that the division be "equitable."
While equitable does not necessarily mean equal, you are still at risk of a third party deciding who ends up with what. You can help to mitigate this concern with positive negotiation between your team and those of your former partner. We are here to assist you in reaching a positive outcome!
Navigating Custody Can Be Tricky During Divorce
Another stressful situation during the dissolution of a marriage is the creation of custody agreements. This process involves the negotiation between you and your former spouse in order to come to terms over how your child is to be raised. Custody agreements can include a wide variety of stipulations, with one primary reason being a consistent schedule of appointments.
Without a solid custody agreement, you could be subject to the determination of the court. If you and your partner can come to a consensus on these topics, you can reach a more amicable solution that retains your flexibility.
Helping You To Know Your Rights In A Connecticut Divorce
If you are in the process of a divorce in the Nutmeg State, be sure to reach out to a helping team of attorneys. Give us a call at The Law Office of Larracuente & Goulden, LLC in Milford, CT at (203)951-6688.