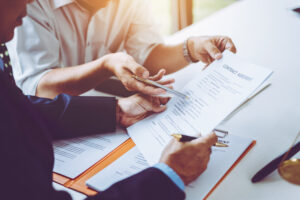 The creation of a new business can be a highly exciting thing, as you embark on a new enterprise. The founding of your company in the right way takes some legal steps, and if this is your first time, you might not know the path to a positive start. Speak with legal counsel who is knowledgeable in Connecticut business law so that you can make positive decisions for you, as well as your company.
At The Law Office of Larracuente & Goulden in Milford, CT, we can help you to know your rights and your obligations at every step of the formation of your limited liability company. The rules differ between the states; so even if you have been through this process before, it may be a slightly different experience in Connecticut. Speak with our team early in the development of your business, so that you have the tools you need to make appropriate legal choices. Stay ahead of the curve with a legal team that knows the ins and outs of business law in The Nutmeg State.
Start Your Business With A Positive First Step Forward
Building a successful new company the right way can give you significant advantages in the long run. Take the time now to ensure that your business has the proper legal designation for its operation in Connecticut. One highly important step in this process is the formation of a limited liability company.
This term, often referred to as an LLC, is a business structure that gives you flexibility as an owner. A single-member LLC is the most common form of filing, which is a sole proprietorship, or a business that is owned by one individual. This differs from a corporation, which can issue shares and potentially be taken public.
Navigate The Steps With A Knowledge of Connecticut Law
Every state is different in their requirements in the filing of an LLC formation. For your particular needs, it is important to find counsel that you can trust within the state of your business. Set aside the time to talk with a qualified lawyer in Connecticut, so that you have the tools you need to make the right decision for your company. Online sources can be helpful, but speaking with a professional can help you to know the plan. Start your path to formation early in the process so that you can stay ahead.
Know Your Rights And Make Positive Decisions Along The Way
Take the time to speak with a knowledgeable lawyer about your LLC formation. Give us a call at The Law Office of Larracuente & Goulden, LLC in Milford, CT at 203-951-6688 to schedule an appointment or to learn more about our practice.