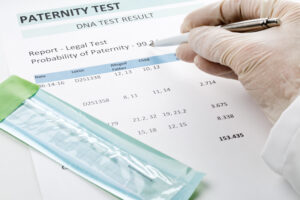 When you are able to set realistic goals and expectations, responsibilities and more in a premarital agreement, some elements of married life become much easier. When two partners parent a child and are not married or legally together, however, some inherent rights and responsibilities are not actually guaranteed. Because of this, future scenarios or situations will become more difficult to manage, essentially leaving out one partner in many of the large child rearing decisions. In today's job, your Milford, CT attorneys discuss the legal side of establishing paternity and what the benefits of doing so would be.
Benefits of Establishing Paternity
When a child is born, the topic of who the mother is in no way in question. This is an inherent establishment of rights, which allows the mother to make important child-bearing and rearing decisions. Though you might expect the same to occur for an unmarried father, you would be mistaken.
The state of Connecticut statutes say that a mother's rights are inherent and those rights extend to a married spouse. When a mother and the father of the child are not legally married, the lines between responsibilities and rights becomes blurred. In fact, a father cannot make decisions or have input when it comes to things such as travel with the child, the child's last name, and even parenting decisions.
When a parent establishes paternity, it allows for the protection of the father's rights and allows a father to have his name listed on the birth certificate, inheritance rights, establishment of legitimacy, and more.
Looking At the Timeline
When two parents are unmarried, paternity can only be established by following legal protocol. It can be established both voluntarily and involuntarily. Involuntary paternity is a longer process and involves a court order. Paternity cases can be started prior to the birth of the child, and they can be sought up until the child's 18th birthday.
When paternity is not established at birth, the process can take anywhere from one to several months. Moreover, you must follow the process exactly or your matter could be thrown out or have to be restarted. To learn more about this process and what our team can do to help, give us a call today.
How to Begin the Process
In the state of Connecticut, there are three ways you can establish paternity of a child: the marital presumption if mother and father are married, adjudication by the court, or a formal acknowledgement of paternity. If paternity is not established at the child's birth, keep in mind that the process can take several months to complete. This is where our team comes in to help, and we are ready to help you get started.
Give Our Team A Call
Contact The Law Office of Larracuente & Goulden, LLC in Milford, CT by calling 203-951-6688 to schedule your free initial consultation with our team and learn more about your paternal rights today.