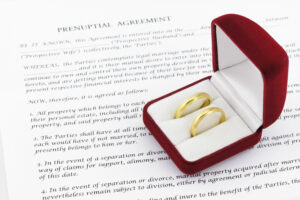 As humans, we set out to achieve a host of goals throughout life. Some of these are pre-ordained by society, such as starting a family, buying a house, and more, whereas many others are personal goals that are specific to an individual's personal life journey. While we are all working toward our own goals, sometimes life has other plans to throw a wrench into things. In today's blog, your Milford, CT attorneys take a look at changes that can occur throughout one's life and why it could be in your favor to establish a premarital agreement prior to getting married.
What it Is and Isn't
Life hardly plays out the way we anticipate it will. Though you may achieve your goals or work towards earning bigger things in the process, there are many elements that are simply not within our control. Some of these things include how two partners are going to interact during their legal union, and it is times like these where a premarital agreement can come in handy.
Premarital agreements or prenuptial agreements might be something you have heard on television or in passing. Though there are a host of negative connotations to the document, in all actuality, it can be used to help define specific parameters of your marriage and expectations from one another as spouses.
A premarital agreement is not a document saying that none of your finances go to your partner in the event of a divorce, although specifications similar to this one can be made. Instead, it acts as a guiding document that helps define specific roles within the marriage. To learn more about this process and how our team can help, give us a call today.
Things to Include
Believe it or not, there are several factors you can define in your agreement. For example, you can establish estate rights, rights to funds and finances, your child(ren)'s estate rights, alimony or maintenance payments, and even who is in charge of bank accounts or real property.
In addition to the financial elements of a union, your premarital agreement can also define how you and your partner want to handle parenting, how marital disputes or altercations will be handled, and who will receive what benefits in the event of an untimely passing. Contact our team to learn more.
Making Changes to Your Document
Just as we mentioned previously, there are many things in life that can change. We recognize that career changes can occur, layoffs can occur, and a host of other factors. By working with our team and amending your agreement before the court, you can reflect such important life changes to ensure everyone's best interests are handled.
Learn More Today
Contact The Law Office of Larracuente & Goulden, LLC in Milford, CT by calling 203-951-6688 to learn more about the ins and outs of premarital agreements, and schedule your initial consultation with a member of our team today.