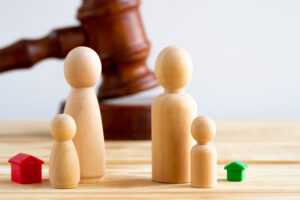 In our previous blog, our legal team took a look at the many components of a pardon and what you would need in order to apply for one in your criminal matter. Though required for proper action, paperwork and following the natural progression of steps is not a concept exclusive to criminal matters. In fact, each area of the law contains its own unique process to arrive at specific ends, and family-related issues are no different. In today's blog, your Milford, CT attorneys shift gears by discussing what the process looks like for making changes to your custody agreement and how our team can help.
Following the Specified Process
It goes without saying that most family legal matters can be a grueling process. Not only are there many figurative hurdles you must jump through, but you are expected to do so while in the process of going through a difficult time in your life. Though many legal separations occur in a contested and sometimes hostile manner, beneath the anger is a myriad of feelings and emotions.
When undergoing a divorce, there are a host of factors that are looked at, most importantly, if any children are involved. This adds on the additional process of establishing custody, child support payments, and creating a parenting plan under a custody agreement.
Just as time changes many things, however, there may be large changes that occur to your situation, and sometimes it is necessary to ensure these changes are reflected in your custody agreement. To learn more about this process and how our team can help, give us a call today.
What Warrants a Change?
Changes to your custody agreement are going to depend largely on a few different elements. For starters, the state in which you reside may have different practices or priorities in place for such changes, and it is important to seek the assistance of an attorney to ensure you are covered.
In the state of Connecticut, the biggest changes that warrant a custody agreement modification may include when one parent moves away within the state or out of state, if a parent's work schedule has changed and a visitation time change is warranted, or if one parent hurts the child and/or refuses to take the child to the doctor. Contact our team to learn more.
Prioritizing Your Family's Best Interests
Major changes are important to reflect in your custody agreement, but know that not all changes are accepted by the court. The judge will ultimately take into consideration changes that prioritize your child(ren)'s best interests, and we encourage you to reach out to our team to learn about your rights.
Schedule Your Free Consultation
Contact The Law Office of Larracuente & Goulden, LLC in Milford, CT by calling 203-951-6688 to schedule your free initial consultation with our office and learn more about your family legal rights in the state of Connecticut.