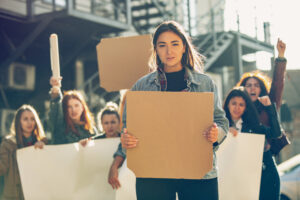 Having a plan identified through legal doctrine in the event of death is wise to get started sooner than later, as it ensures your family and loved ones are taken care of and your best interests represented. Having your rights taken away from you due to the changing times, however, is something that cannot necessarily be anticipated. It is important, however, to understand what shifts in rights mean for you and your loved ones. In today's blog, your Milford, CT attorneys discuss the importance of the fight for reproductive rights, and how these rights are in jeopardy given current events and Supreme Court hearings.
To Get You Up to Date
Women's rights and reproductive rights received a precedented victory in 1973, as the Supreme Court of the United States legalized abortion in the case of Roe v. Wade. The outcome of this case made it possible for women to receive safe and legal abortions, given certain criteria/timeline events were met. Though the discussion regarding reproductive rights has been a hot-button issue for decades in terms of morality, it was not until early December of this year that significant strides have been made to indicate the demise of the decision with the case Dobbs v. Jackson Women's Health Organization.
Indeed, there are significant consequences currently being debated regarding overturning the jurisprudence set forth by Roe, including women's rights, reproductive rights, and the legitimacy of the Supreme Court as our primary judicial institution. With all of this information currently up in the air, it is important to recognize how this will affect you in the meantime. To learn more about these events and how we can help, reach out to our team today.
What This Means for You
If Roe is overturned, the result will affect the entire country in a variety of ways. It represents a tipping point in which brings the legitimacy of the Supreme Court into question, and many of the Democratic justices have voiced that this legitimacy may not be able to be recovered. On the other hand, the Conservative side of the court has competing ideas for what exactly is at stake, including women's rights, the interest of fetal life, adoption, and viability. Unfortunately, we likely will not hear anything until the Summer of 2022 regarding the outcome.
We Care for Your Rights
Though significant decisions are currently up in the air in terms of reproductive rights, our team wants you to know that we will not stop representing your best interests. When it comes to family law and individual rights, we work tirelessly to ensure you receive the best possible outcome, and this is even more true now.
Representing Your Best Interests
Contact The Law Office of Larracuente & Goulden, LLC in Milford, CT by calling 203-951-6688 to speak to a representative of our team and schedule your initial consultation today.