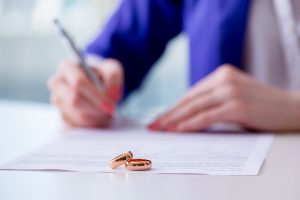 Attempting to traverse the legal realm on one's own can be rather daunting, especially if a person has not had experience doing so before. Indeed, whether the situation involves family matters, criminal court, or a completely different situation, it is usually best to meet with someone experienced in the field and have them on your side for legal representation. Other times, attorneys can serve as excellent resources to help you achieve a better outcome from a specific situation. In today's blog, your Milford, CT attorneys will take a look at the function of a premarital agreement, and how our team can help you through the process.
What It Really Means
By now you are likely familiar with, or at least have heard of the phrase "prenuptial agreement." Indeed, this document often receives a negative reputation as a legal document that only celebrities employ to make sure their earnings and legal assets are protected. Though that is one function of a prenuptial agreement, this is not the function in its entirety.
Indeed, a prenuptial or premarital agreement is considered a legal document that details each party's role in their civil union, as well as what will occur in the event that situations change. Indeed, it allows a couple to legally define their respective roles in a marriage.
Premarital agreements can be used to define estate rights, children's estate rights, how the couple will handle marital disputes, who will receive benefits in the event of death, what occurs if a partner is unfaithful, who is in charge of or owns bank accounts, your rights to funds and finances, and more. To learn more about this process, give our team a call today.
Benefits of Ever-Changing Conditions
Though a premarital agreement is a guiding document for your marriage, it is important to recognize that some aspects may change. For example, what if a global pandemic hits and you or your spouse lose your job? What does this mean for fund allocation? In circumstances such as these, alterations and updates can be made to the document to best reflect your present situation. The important step here, however, is to ensure you have someone on your side to oversee the process and make sure it is correctly filed with the court.
Reflecting Your Current Situation
In addition to reflecting changing conditions, it is important to recognize that sometimes, unions do not last. If this is the case, having an attorney on hand to ensure that division of assets and other elements are handled accordingly so that you receive exactly what you deserve.
Get Started Today
Contact The Law Office of Larracuente & Goulden, LLC in Milford, CT by calling 203-951-6688 to schedule your initial consultation with our team and learn more about premarital agreements today.