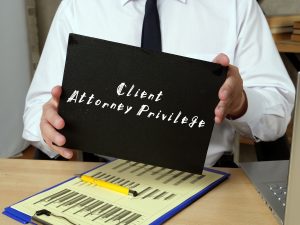 Ensuring that you are able to properly exercise your rights and that your best interests are represented is a top priority that our team considers. Whether your case involves family matters such as adoption or divorce, or criminal concerns such as DUI and pardons, we work tirelessly to ensure the best possible outcome in your situation. In today's blog, your Milford, CT attorneys explain how our representation relationship is important to the outcome of your matter, and how we demonstrate our dedication through attorney-client privilege.
Why it Matters
It goes without saying that a variety of legal matters are often sensitive in nature. What's more? There are actually laws and stipulations in place that dictate what information an attorney can and cannot divulge to other parties. This concept is known as attorney-client privilege.
Attorney-client privilege is a legal privilege that aims to keep communications confidential between him or herself and his or her client. It is often utilized in situations involving discovery requests or when an attorney must testify under oath. In other words, it keeps specified information just between the client and the attorney.
There is often a misconception that a consultation in and of itself establishes attorney-client privilege. On the contrary, this is not the case. Indeed, this privilege is formally established when a client hires an attorney and enters into a contract for representation with the attorney. While there are a few different factors that must be considered for the term to apply, this is often the most common. For more information about this process, reach out to our team today.
Communicating the Facts
When entering a representation relationship, it is important to communicate all of the facts. This includes giving your lawyer the full picture surrounding your case so that he can best represent you. Withholding important information or lying about the exact rundown of a situation can cost you your entire case, so it is important to know that what is shared with your attorney is in confidence. If you have any questions about this process, reach out to our team or schedule an initial consultation today.
Your Best Interests in Mind
While it is not illegal to break attorney-client privilege, there is a strong ethical obligation that it remains intact. In fact, there are only a few specific instances in which this practice can be defended, and oftentimes it involves situations where health and safety are brought into question.
In addition to this, a major takeaway from this topic is that everyone's situation is different and exact advice is subjective. In other words, you will not fully understand the parameters of your case until you speak to a seasoned attorney.
Speak with Our Team
Contact The Law Office of Larracuente & Goulden, LLC in Milford, CT by calling 203-951-6688 to learn more about the process, or schedule your initial consultation with our team today.