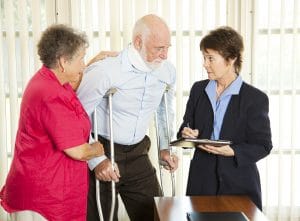 Have you ever experienced an injury due to someone else's negligence? If so, you may be entitled to compensation for the harm that has been caused. Apart from probate law, personal injury consists of damage done to the body, mind, or emotions and is filed against the individual or entity that is responsible. Whether you received an injury in a store, warehouse, walking on the sidewalk, or even at the park, your Milford, CT attorneys at Larracuente & Goulden, LLC are prepared to represent you through the entire legal process, ensuring that you receive the settlement you are owed.
What Signifies a Personal Injury?
A personal injury can come about from a variety of circumstances. For example, if you work in a warehouse that requires you to operate large machinery on a daily basis, but the equipment malfunctions and harms you due to your boss neglecting to test it and ensure it is up to safety protocols, you may have suffered a personal injury. Another example could be if you were taking a walk through the neighborhood like you do every day, though today just so happens to be the day that your neighbor and his aggressive dog are walking as well. If your neighbor does not have the dog on a leash and the dog runs up and attacks or bites you, that would also be considered a situation protected under law. While these examples merely scratch the surface of the variety of situations that could constitute legal action, it is crucial to know your rights and proceed accordingly to ensure the best possible outcome.
Steps You Should Take
Similar to other forms of law, harm claims can be settled with informal settlements, alternative dispute resolution such as mediation, or even through the litigation process. They can also present themselves in a variety of forms, including medical or dental accidents, workplace accidents or injuries, defective or faulty products, vehicular accidents, premises liability, or even tripping and falling. Regardless of the circumstance, it is crucial to remain calm and contact a lawyer immediately. Oftentimes legal claims must follow a strict process exactly in order to successfully reach a resolution, and having an experienced attorney on your side can make that process smoother. The attorney will be able to inform you of the pros and cons of your situation, what laws are applicable, and what it would look like to move forward with your case. For more information about the process, or to determine your rights, contact our office today.
Claiming What's Yours
At Larracuente & Goulden, LLC, we work diligently to ensure that you are not only receiving quality representation but receiving the best possible outcome for your situation. Contact our Milford, CT office today at (203) 951-6688 to schedule a consultation with an attorney and learn more.