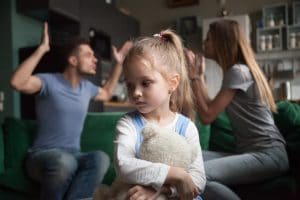 One of the goals many individuals possess is the hope to find a partner, start a family and live happily ever after. We understand that life is full of ups and downs, quarrels and disagreements, and more, and that sometimes that notion does not work out. When couples decide to divorce or separate, however, the situation can become difficult when it comes to establishing property rights, division of assets and other circumstances, and becomes increasingly more so when involving the question of custody.  While deciding this matter can become a messy process, your Milford, CT attorneys at Larracuente & Goulden, LLC are here to help you through the process.
Establishing Custody
When it comes to establishing custody, the judge's top priority is to determine a solution that is in the best interest of the child(ren) involved. When considering a party to award custody to, the judge takes into account financial status of each parent, living situations, current or previous history of alcohol or substance abuse, and more. While this may seem clear-cut, however, it isn't. In fact, opposing council may choose to address or highlight only certain aspects of the living situation to put your case in bad light, throwing a wrench in the legal process. While a judge has understanding, the framing of the case has a tremendous impact on the outcome. Because of this, it is crucial you have an experienced attorney on your side to present a full and complete picture that helps the judge rule in the best interest of your little one.
What Your Timeline Could Look Like
Because the legal process is thorough and in-depth, it could potentially take months or years to settle. While this is not ideal, each step must be followed thoroughly and correctly to ensure success. From the moment you meet with an attorney, to the potential mediation and pre-litigation steps, to your day in court, having a dedicated individual that puts your best interests first and will work tirelessly to achieve the best possible outcome is necessary. For more information, contact our office today.
When Life Throws Curveballs
Even after custody has been established, life can get in the way. For example, a parent could receive a job offer that required relocation, or a parent could be experiencing job loss and fall behind on child support payments. In these particular circumstances, you may require a custody modification to best reflect your current situation, and our office is here to help.
Consult with an Attorney Today
At Larracuente & Goulden, LLC, our goal is to help you through your legal matter with the experience necessary to achieve the best possible outcome for your familial situation. Contact our Milford, CT office today at (203) 951-6688 to consult with one of our attorneys and learn more.