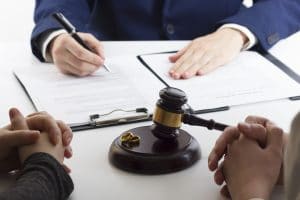 When couples choose to enter a civil union or marriage, a great deal of planning is involved in ensuring the big day and the ceremony is everything both partners dream of. From planning the venue, the menu, the seating, meeting with decorators, florists, and so on, partners are typically very specific about their likes and dislikes and take care to plan for potential setbacks as well. What many people are unaware of, however, is that couples can plan and set goals for specific roles and responsibilities in their marriages as well by creating a premarital agreement, addressing specific family law matters such as estate rights or maintenance payments. The Milford, CT attorneys at Larracuente & Goulden, LLC can assist in drafting and presenting premarital or prenuptial agreements to ensure that you and your partner's goals and wishes for your union are legally upheld and sound.
What is a Premarital Agreement?
A premarital or prenuptial agreement is a legal contract that a couple can enter into that lays out and allows them to control their legal rights that are acquired upon marrying. In other words, it is a formal way to address specifics of their marriage in the event of divorce, death, bankruptcy, or other circumstances. If one is in place, the terms and standards set will supersede default marital laws that would have applied, such as that governing division of property and spousal support.
What are Your Rights?
Prenups allow both parties to address a myriad of legal rights that are acquired upon marriage. If the couple decides to separate or divorce, for example, questions about property division, parenting, custody, alimony, and even estate rights all are affected. With a legal document detailing what is to occur in the event of a divorce or other circumstances, you will be able to specify exactly how things will be handled. You may also address specifics such as how marital disputes or altercations will be handled, asset appreciation, who is in charge of or owns real property and bank accounts, and more.
Are You a Candidate for a Prenup?
In the event of a dissolved marriage, a court of law will determine if a prenup can hold up in the state of Connecticut. The Connecticut Premarital Agreement Act lists circumstances in which an agreement will not be enforced in a court of law, such as:
Involuntary entering
Not providing fair and reasonable disclosure
The document is unconscionable, and more
For more information about candidacy, please contact our office.
Consult an Attorney Today
At Larracuente & Goulden, LLC, we strive to not only assist you in your family law matter but to help you achieve the best possible outcome for your situation. Contact our Milford, Connecticut office today at (203) 951-6688 to schedule a consultation or learn more about your family law rights.