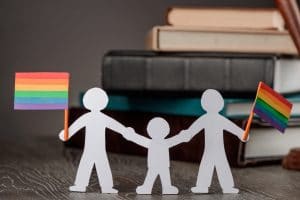 Family law matters can be stressful courses to traverse, from undergoing a legal separation to acquiring custody of children and so on. As attorneys, our role is to help you through the process while making the legal experience as seamless as possible for you. This means that Connecticut attorneys Larracuente and Goulden are dedicated to representing your best interests in your legal matter and ensuring that your freedoms are protected and your voice is heard, no matter your orientation.
LGBT Law History
The history of same-sex claims in the legal realm is a much shorter timeline than you might expect. In fact, it was not until the 1960's that freedoms for same-sex couples and advocacy began to emerge in larger settings, and the military, for example, adopted a "don't ask, don't tell" mindset. In 2004, Vermont was the only state that allowed same-sex civil unions. Following that, in 2009, the Obama Administration reversed the Bush administration policy that criminalized homosexuality, and it was not until 2015 that all fifty states in the United States recognized the legality of same-sex marriage. While great strides have been made to acquire equal rights for the community, the same cannot necessarily be said about maintaining those freedoms.
Following the legalization of same-sex marriage, it was only natural that family rights began to be addressed and acknowledged. In 2017 the Supreme Court of the United States struck down previous rulings against LGBT adoption claims, and declared that same-sex couples be treated equally to and held to the same standards as heterosexual couples when considering families for adoption.
The Threat to LGBT Rights Today
While progress has been made in respect to equality of human rights, threats to those established freedoms also remain. In our current political climate, it is crucial to keep in mind that while there are laws in place to protect your family's best interests, discrimination and inequality are still prevalent today.
Our goal at Larracuente & Goulden, LLC is to ensure that your assets and best interests are protected and kept at the forefront. We proudly serve the LGBT Community, and will work tirelessly to make sure we achieve the best possible outcome for your matter. Knowing your fredoms is the first step, and we are more than happy to help. To learn more about our LGBT Family Law Services, reach out to us for a consultation.
Advocating for your Rights as a Family
Whether you are seeking advice in your child custody, separation, or premarital agreement, the attorneys at Larracuente & Goulden, LLC are available to discuss your options with you. To learn more about your LGBT Family Law rights, contact our Milford, Connecticut office at (203) 951-6688 for a free consultation. It is pertinent now more than ever that you have an experienced attorney on your side, and we are here to help.