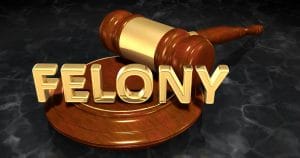 Facing a possible felony conviction is a gut-wrenching, life-changing process. Unlike a civil matter, a criminal judge will not offer forms of alternative dispute resolution for your case, and you will be expected to testify in court in front of a criminal jury. The process can be long, strenuous, and, of course, will have lasting effects on your record and your life. Having the experience of a knowledgeable and aggressive attorney to assist you through your legal matter is a must, and fortunately, the team at Larracuent & Goulden, LLC in Milford, Connecticut are here to help you.
The Process
The felony process takes place across eight major steps before reaching a conviction. First is the arraignment, in which you are brought before the court to hear and answer criminal charges against you. Following this is the bail review, and then the first-readiness conference where we can attempt to settle the case through a plea bargain. Next, the prosecution will argue that there is a strong suspicion that the defendant is guilty of a crime that has been committed in the pre-trial or preliminary hearing. The fifth step is the arraignment on information in trial court, followed by the pretrial readiness conference, motion hearings, and then finally the trial. While it may appear extensive, it is critical that steps are followed closely and accurately.
The Consequences of a Conviction
Following the legal process and conviction of a felony, the consequences and sentences will be life-changing. In the state of Connecticut, if you are convicted of a capital felony, the mandatory minimum sentence you will receive is execution or life without the possibility of release. A Class-A felony such as murder or felony murder will result in a sentence of, at minimum, 25 years imprisonment and a maximum of 60 years. For Class-A felonies such as assault, kidnapping, home invasion or arson of the first degree, you will receive anywhere between 10-25 years imprisonment, and the list goes on.
With the above sentences in mind, there is no doubt that your life will personally be affected. You will be separated from your family for a long period of time in prison, and once out, you will experience difficulties with obtaining jobs, renting or buying property, and so on. For these reasons, it is crucial you have an experienced attorney on your side that can represent you in your felony matter. Attorney Larracuente knows the penal system and legal process thoroughly and can apply his expertise and knowledge to help you receive the best possible outcome for your situation, whether that be through acquittal or the pardon process after the fact.
Learn More About Your Rights
Having a dedicated attorney on your side that will work tirelessly to help you receive the best possible outcome for your felony matter is a must, and the Milford, Connecticut team at Larracuente & Goulden, LLC is here to help. For more information or to schedule a consultation, contact our office today by calling (203) 951-6688.