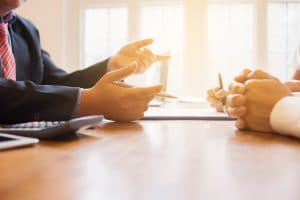 Seeking legal help can seem daunting initially, especially now in the wake of the Coronavirus Pandemic. The litigation process can be extensive, strenuous, costly, and there is no guarantee when the court will see your case, potentially extending the duration of it for periods of months or even years. Whether you are looking to expand your family or seeking assistance in beginning the process for LLC Formation, however, the attorneys at Larracuente & Goulden, LLC in Milford, Connecticut want to help you achieve the best possible outcome and alternative dispute resolution practices as a tool to settle your matter quickly and efficiently.
It's Efficient
Alternative dispute resolution (ADR) is the process of attempting to settle your matter prior to having to go to court. It can take the form of mediation, in which the plaintiff's side and the defendant's side sit in separate rooms with an impartial mediator that travels back and forth to each room communicating terms discussed by each, hoping to help the parties reach a resolution. The mediator does not take sides nor does he or she choose who wins, but rather, serves as a mitigator to help each party reach a natural resolution.
It can also take the form of arbitration, in which one or more judges or arbitrators decide on the situation based on information presented by each side and awards a winner. ADR is often a form of settling a case used in the pre-litigation process to settle a case in a timely matter without having to go to court and accrue significant court costs.
Your Matter Can be Settled in a Day
When an attorney schedules a mediation, he or she is scheduling either a partial (half) or full-day mediation in which the goal is to get the legal matter resolved. Depending on the facts of the case and the parties involved, cases can be settled relatively quickly or may even take the entirety of the day. Occasionally, one or both parties refuse to settle and will not back down from their offers, such as the case in some divorce or custody proceedings. In the event of this, a client and attorney must consider proceeding with formal litigation to get the situation resolved. In most circumstances, however, your situation can be resolved in a single day. Given the subjective nature and uniqueness of each individual claim, however, it is best to consult with an attorney first to see if this method is the right one for you and your situation.
Learn More About Alternative Dispute Resolution
While seeking relief in a legal matter may seem daunting, it is important to recognize that each claim is different and there are alternative dispute resolution options such as mediation that can be utilized to help you resolve your case in a timely and efficient manner. For more information about mediation and ADR, contact the law office of Larracuente & Goulden, LLC today at (203) 951-6688 to schedule a free consultation with our attorneys.