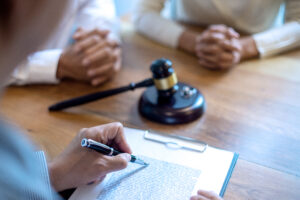 When the marriage between you and your spouse has run its course, there is more that you need to do than simply decide to divorce. Here in Connecticut, there are certain steps that you need to take in order to dissolve your marriage in the eyes of the court, and going it alone can make your situation more stressful than it already is. If you have been considering divorce, it can be helpful to take the time to meet with a trusted local divorce attorney so that you can better understand your next steps.
With our team of expert divorce attorneys at The Law Office Of Larracuente & Golden in Milford, CT, you can be sure that you have a dedicated guide through the process of ending your marriage. By working alongside a knowledgeable legal team, you can know your rights and responsibilities through each part of your divorce, including the division of finances. This can be an especially tricky thing to navigate, as it is often a point of contention between the parties. And if you two share a child together, our team is ready to help you make the right decisions for the future of your child. Talk to our team today to learn more about Connecticut divorce.
Dividing Finances Is Rarely Fun, But It Is A Necessary Step
Here in the state of Connecticut, there are distinct laws that dictate what happens during a divorce. One of these stipulates that when two spouses decide to dissolve their marriage in the eyes of the court, their finances must be separated. In our state, all property is viewed as collectively owned, so you cannot shield your assets from these discussions. Your wealth must be divided "equitably" between each partner, meaning that your judge agrees that the separation seems fair to both parties.
Develop A Parenting Plan That Keeps Your Child's Needs First
There may be another pivotal step in your divorce if you share a child together with your former partner. Custody can be a contentious issue, but if you and your former spouse can come together for the stake of your child, it gives both of you more flexibility in how you raise your little one. With the creation of a special document known as a parenting plan, you two can put the rights and responsibilities of each parent into writing, so that each parent is held accountable for vital decisions.
Learn More About Divorce In Connecticut With Our Milford Legal Team
If it is time to discuss ending your marriage in the state of Connecticut, reach out to a trusted local team of attorneys to handle your divorce. For more information or to schedule a time to meet, give us a call at The Law Office of Larracuente & Goulden, LLC in Milford, CT at (203)951-6688.