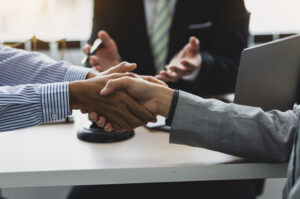 Coming to a disagreement can happen all the time in your normal life, but sometimes, this can be more than just a difference of opinion. When you need to reach a resolution in a civil matter, things can become complicated very quickly, and you and the other party might wish to avoid the acrimony of litigation. In these times, reach out to a trusted team of legal professionals about your options, including mediation.
With our team of helpful attorneys at The Law Office of Larracuente & Golden in Milford, CT, you have a guide the entire way through the mediation process. Talk to our team about all of the ways that you can resolve your civil matter with an unbiased third party. This helps both sides to have a fair shot at showing their point of view, hopefully reaching an agreement that can be beneficial for everyone involved. Set aside some time to meet with our staff to learn more about the advantages and risks of alternative dispute resolution!
Come To A Consensus With The Help Of A Third Party
When you and another party have a dispute over finances, property, or another civil issue, it may seem like litigation is your only move. However, it is important to remember that you have another option in mediation. This is a form of alternative dispute resolution that uses an unbiased third party to look at both sides of the issue.
After hearing from both sides, the mediator can take a hard look at the facts and circumstances related to your dispute. Since this third party does not have any stake in the discussion, they can determine what the appropriate next steps can be. Meditation fosters a positive relationship, so it may be the right way for you and a business partner or loved one to find common ground.
Have A Dedicated Attorney By Your Side The Entire Time
During the mediation process, you still want to have a talented attorney to help guide you through each step of the way. Look for a local attorney who understands both the nuance of the law and negotiating these agreements. The right legal counsel can make all the difference in reaching a positive solution, so take the time to meet with a professional. Learn when and how to settle your civil dispute with the help of a trusted Connecticut lawyer.
Learn More About Mediation With Our Milford, CT Attorneys
Finding common ground can be difficult when both sides are entrenched. Find out more about the advantages and risks of mediation with our team at The Law Office of Larracuente & Goulden, LLC in Milford, CT at (203)951-6688 today!