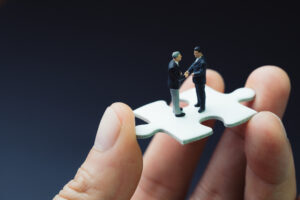 Your legal needs do not always have to be in a courtroom. Mediation is an area in which you can require knowledgeable counsel. This is the use of a third party to settle a dispute, and it can be helpful in finding a compromise. This solution can be helpful for those who are looking for a resolution that falls outside the court room, so speak with a qualified lawyer in the state of Connecticut about whether this option is the right choice for you to move forward.
At The Law Office of Larracuente & Golden in Milford, CT, we understand that not every solution is cut and dry. We can help to further your interests when you are in the process of mediation. Work with us to help you to find a positive resolution for your legal dispute. This can be a softer and more flexible approach than in the courtroom, so discuss your possibilities with your counsel.
Mediation Through A Neutral Third Party
The concept of mediation is that a neutral individual can help resolve a dispute more equitably than can interested parties. With no skin in the game, the goal is that they can better find a solution that is fair for everyone. With that said, you should still have an advocate by your side with a detailed knowledge of Connecticut law.
Arbitration is a similar process, and legal counsel can be equally valuable in these situations. This is a more formal dispute in which a third party arbitrator renders an award. With mediation, the goal is to reach a collective resolution. A knowledgeable lawyer during both of these situations can give you a greater chance of success, so do not find yourself alone against the skills of a trained negotiating team.
Negotiating For Your Best Interests To Reach A Collective Agreement
The goal of mediation is to come to an understanding on both sides of a legal dispute. Understand your rights with the advice of helpful Connecticut counsel in your issue, so that you are not alone in your case. Waiting can give the other side more time to prepare their arguments, as well, so make the effort to find a qualified attorney early in your process. Litigation can become a very lengthy process with many steps, and can become a costly endeavor. For some, the idea of mediation is a more comfortable approach, so discuss whether this is the right option for you.
Understanding Connecticut Legal Counsel
A guiding hand through the negotiating process can help reach a positive resolution. Speak with our team about your mediation or other legal negotiation. For more information or to schedule an appointment, call The Law Office of Larracuente & Goulden, LLC in Milford, CT at 203-951-6688.