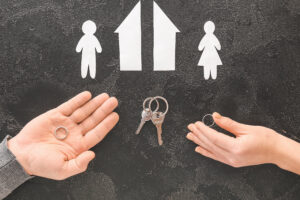 If you're heading for divorce and have property, or if a loved one has passed and you need to determine equitable distribution of assets, you need legal representation. Fortunately, our team of expert attorneys at The Law Office of Larracuente & Golden in Milford, CT, can help with property division, working with you on formal agreements and addressing your questions and concerns along the way.
When You May Need Assistance
Dividing your home and assets following the death of a loved one or following a divorce can be a stressful and often complicated process, one that you don't have to navigate it alone. When you have assets, such as holdings, land, homes, and vehicles, you need someone in your corner when these are being divided. We can help with a formal agreement in which both parties agree to an equitable division. The division could also be done as a judicial ruling.
How Judges Decide a Fair Settlement
In the event of a judicial ruling, how will your property settlement be conducted? The judge will be following the state's guidelines and standards during the process. Meaning several factors will be taken into account, such as you and your spouse's incomes, property and assets, market and emotional values, and of course, taxes and other economic considerations that follow. Using these facts, the judge then assesses the total value of your material estate or your loved one's estate, and then grants the parties involved a percentage.
Help From Our Team
As a result of all of these factors, the dividing of the assets could be equitable, but that doesn't mean it's divided in half evenly among parties. One party could end up with substantially more, which is why having a legal representative who is knowledgeable and experienced in property settlement is so important. Our property settlement attorneys understand this complicated process and can help you through each step, so you don't end up being taken advantage of and losing money or assets. We can help with division as a result of divorce, and also can help should you have a spouse or close family member who has passed away, so their estate and assets are properly allocated to you based on their wishes.
Whether you're facing the death of a loved one or a separation or divorce, you have a lot of legal difficulties and we want to be in your corner. Larracuente & Goulden, LLC, are here to help!
FIND OUT MORE ABOUT PROPERTY SETTLEMENTS WITH OUR MILFORD, CT ATTORNEYS
If you're facing a divorce or other life changing event that requires division and settlement, then talk to our team! Schedule an appointment with The Law Office of Larracuente & Goulden, LLC in Milford, CT at (203)951-6688 today.