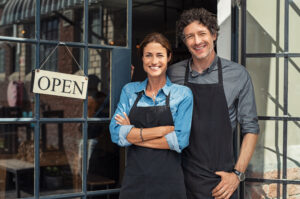 If you have recently started a new business, you want to make sure that you start things off right. While it might seem like you can hold off on designating your fledgling company as a limited liability company, there are notable benefits for both you and the business. Taking the time to ensure that you are in the right legal category can give you a head start and help you avoid problems down the line.
With The Law Office Of Larracuente & Golden in Milford, CT, you have a dedicated group of attorneys to give you the information you need to make positive moves in the creation of a new company. For many small business owners, an LLC designation is a helpful decision, so speak with our team about the advantages of this approach. Be sure to ask all of your questions about how an LLC designation helps to keep your business above board and can help you to protect your personal finances!
What Is A Limited Liability Company, And Can It Help My Business?
For small business owners, navigating the bureaucratic element of ownership can be a significant struggle. When you need to set your business up right, you will want to make sure that your company is classified under the appropriate designation, however. There are a few ways that you can do this, and one positive step that you can make in the formation of a limited liability company. Speak with a knowledgeable business attorney about your situation in order to learn about the key differences between each designation.
A limited liability company, also known as an LLC, can be helpful for you in a number of ways. An LLC is different from the formation of a corporation, and these contrasts are important for the future of your company. Schedule a meeting with our team of business attorneys so that you can understand how this delineation can help you.
Forming An LLC Can Help You to Keep Your Personal And Professional Finances Separate
One of the key reasons for forming an LLC is right there in the title, in the term "limited liability." By designating your company in this manner, you can protect your personal wealth in the event that the company needs to file for bankruptcy. With an LLC, you can have a powerful tool in separating your personal and business finances a bit more separate, protecting you and your family in the event of bankruptcy. Talk to our team about all of the benefits of LLC formation in the state of Connecticut!
Learn More About LLC Formation In Connecticut With Our Milford Attorneys
When your hobby turns to a business, talk to our team about how to set yourself up for success. For more information on forming a limited liability company in the state of Connecticut, call The Law Office of Larracuente & Goulden, LLC in Milford, CT at (203)951-6688.