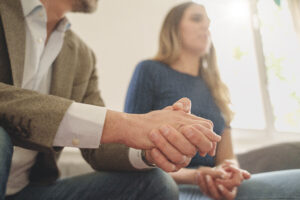 If you are in the process of divorce, or if this is a subject that you have been considering, you want to make sure that you have a talented legal team by your side for the difficult decisions. Even when ending your marriage is amicable, there are certain times when discussion can become strained, and having a quality attorney can make all the difference in reaching a suitable resolution.
With The Law Office of Larracuente & Golden in Milford, CT, you can have a dedicated legal professional during every step of the way in your divorce. This includes the financial negotiations between you and your former spouse, which can be a difficult process for many people. The state of Connecticut requires an equitable division of assets and liabilities, so without an agreement in place, you could rely on a judge to make this determination. By reaching a consensus on how to separate your finances, you give yourself more flexibility to keep what is yours, so talk to our team today about all of your options.
Helping You And Your Spouse To Reach An Equitable Financial Division
The state of Connecticut is clear in regard to the separation of finances during a divorce. The court requires that there be an "equitable division" of assets and liabilities and without a negotiated agreement in place, this decision could lie with a judge. By discussing these matters between yourselves, you and your former partner have more flexibility in how you divide your finances.
Negotiations over this area can be difficult on your own, and you do not want to find yourself alone against a talented team of negotiators. Find legal counsel early in the process so that you can work on a strategy to protect the things that are most important to you. Our team is here to guide you through each step, while being an advocate for your rights.
Even Amicable Divorces Can Become An Entanglement During Financial Negotiations
Another important thing to remember during a divorce in Connecticut is that in this state, all assets and liabilities are deemed to be collectively owned property. This means that you are unable to shield any portion of your finances from the proceedings, so everything you own is on the table during negotiations. Having a quality attorney during your negotiations can help you to manage these tough decisions, so do not delay in finding legal counsel!
Discover The Advantages Of A Talented Negotiation Team In Milford, CT
If you need help during the negotiation phase of your divorce, talk to our team about your legal options. To learn more about how we help clients during divorce, call The Law Office of Larracuente & Goulden, LLC in Milford, CT at (203)951-6688.