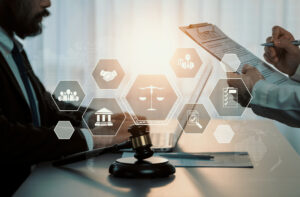 The creation of a business is an exciting thing, but you might be hesitant to start the legal process. In these situations, speak with a talented legal team in your state to understand your options and how you can best position yourself for the future. One of these steps is setting the designation of your business, and the most common is the formation of a limited liability company. 
This type of enterprise, also commonly known as an LLC, helps you in a variety of ways. It gives you the power to create a single-owner business, as opposed to a corporation. There may also be industry-specific benefits to the designation, so talk with the skilled counsel at The Law Office of Larracuente & Golden in Milford, CT about all your options. We can assist you in the formation of an LLC, so that you stay above board in taxation and regulation. For your legal needs in Connecticut, reach out to our team and learn more.
What Is A Limited Liability Company?
The legal designation of a business can play a significant part in how your endeavor operates, so it is vital that you understand your options. The most common of these is with what is known as a limited liability company, also known as an LLC. This differs from a corporation in a variety of ways, in terms of taxation and liability. For instance, an LLC can include sole ownership without the sale of shares. If you are looking to take your business public, this designation does not alow for the sale of shares.
Your formation can also provide flexibility that partnerships and sole proprietorships cannot, as they have some, but not all, qualities of a corporate structure. Speak with a member of our team for more information on the intricacies of legal business designation.
Is An LLC Formation Right For My Specific Needs?
If you are debating whether or not to legally form an LLC, you should know the advantages of this change. This move can help you to keep your personal finances safe, for example, by limiting your amount of liability. This way, should you declare for bankruptcy, you can shield your own private capital from the proceedings. If you do not set yourself up in a positive manner, you could be on the hook for the entirety of your debts. There are other benefits to the proper designation of your business, so be sure to discuss your needs with a knowledgeable attorney in your state.
Helping You With LLC Formation In Milford, CT
For more information on how we can help you and your fledgling business, give us a call! We can be reached at The Law Office of Larracuente & Goulden, LLC in Milford, CT at (203)951-6688.