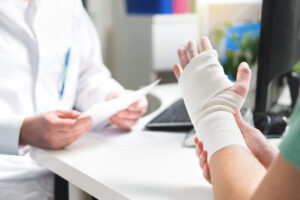 It's not always easy to find an attorney to represent your legal matter, let alone one that has years of experience in the specified field you are looking for. As a matter of fact, there are several different fields or areas an attorney can specialize in, and many will not take cases outside of that specific area. Ensuring you receive the best outcome of your matter is largely dependent on these and other factors, and our team is here to help. In today's blog, your Milford, CT attorneys discuss important things to know about a personal injury claim, and how our team will help.
What Is a Personal Injury Claim
It goes without saying that accidents can occur at any given time to any given person or any given age. Not only this, but they can range in terms of severity or damage caused/endured. When it comes injuries that result from these accidents, however, there are some circumstances in which blame can be assigned.
Indeed, a personal injury claim is considered to be an injury a person may sustain as a result of another person or party's negligence. Personal injuries can occur in a variety of different environments, including on a public sidewalk, while at work, and on the road.
As you can imagine, there are a number of reasons why you may want to open a personal injury claim, including seeking financial compensation for burdensome medical bills that resulted from the injury sustained in the initial accident. To learn about your potential claims and how to get started, give our team a call today.
Informal and Formal Procedures
Just as with any other law service, personal injury matters vary significantly between. This means that there is no checklist of procedures that you can find easily online, as each case is unique to the individual and situation.
What's more? There are often different ways in which one could resolve a personal injury matter, including through formal and informal procedures. For example, an injury sustained on the job as a result of the company's neglect to update equipment regularly might see the defense seeking to settle prior to litigation in a process known as alternative dispute resolution. Contact our team to learn more today.
Acquiring What You are Owed
At the core of the legal system is the notion of justice. This is one of the founding principles the legal system is based on, and acquiring what you are legally owed is part of this process. Our team is more than happy to learn about your situation in an initial consultation, and we will inform you of your rights and options for moving forward.
Schedule Your Consultation
Contact The Law Office of Larracuente & Goulden, LLC in Milford, CT by calling 203-951-6688 to schedule your initial consultation with a member of our team, and learn more about the ways we can represent you during your personal injury matter.