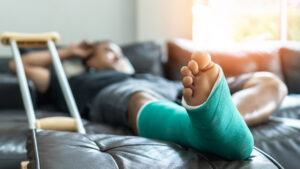 Working through a complex family matter can be particularly emotional, exhausting, and troubling, let alone having to process this situation before a court of strangers. Indeed, we as a country tend to lead particularly private lives, and when our biggest troubles and fears are having to be processed out loud and in public, it can be an even more traumatizing experience. Moreover, having to undergo the legal process for any matter can have this effect, and ensuring you receive what is rightfully yours can seem like a daunting task. In today's blog, your Milford, CT attorneys discuss what it means to file a personal injury claim, as well as how our team will work tirelessly to achieve the best possible outcome for your matter.
What is a Personal Injury?
It goes without saying that there is a legal process following virtually every major life experience or change you can imagine. What's more? The phrase "anyone can sue anyone for anything" tends to speak many truths, and sometimes individuals may be led to try and play the system. Regardless of the situation, however, our team represents individuals in a manner that reflects our dedication to law and to justice.
Indeed, everyone should have the right to challenge a claim or situation in the event it is unjust, as our goal as a nation is to ensure justice is served. The unfortunate truth of this, however, is that this is not always the case.
As a matter of fact, many people are abused in the system on a regular basis, and one major contributing factor includes personal injury. Indeed, many times an employer may try to skirt responsibility for putting you in harm's way, and it is situations such as these that our team will step in and fight for what's right. To learn more about this process, give our team a call today.
Placed in Harm's Way
A personal injury claim is defined as one in which a person has been injured due to the negligence of a secondary party. This can include on the job, such as obtaining an injury from operating faulty equipment, but can also include other, non-employment related situations.
Indeed, a personal injury claim is highly dependent on the situation, but can include anything from vehicular, motorcycle, or ATV-related accidents, faulty product use, animal attacks or bites, tripping or falling due to negligent item placement, and a host of others. Contact our team today to learn more.
Seeking Proper Justice
The last thing we want is for the system to fail to provide the justice you deserve. As such, we will work diligently and tirelessly to ensure you receive nothing short of the best possible outcome.
Speak with Our Team
To learn more about the ins and outs of a personal injury legal matter, or to schedule your initial consultation with a representative from our team, contact The Law Office of Larracuente & Goulden, LLC in Milford, CT by calling 203-951-6688 today.