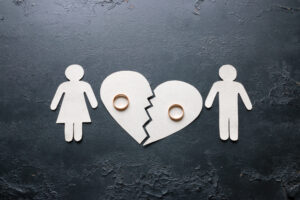 While you may be comfortable in your everyday routine, it is important to note that at one point or another, you will be faced with the law and need to know what you are up against. This can include being pulled over for driving intoxicated and receiving a DUI, or it can be through filing for adoption, establishing custody, or some other family-law related matter. Indeed, it can seem daunting at first, especially if you have never entered the realm of legality and illegality. Fortunately, our team is here to help protect your rights in your unique family or criminal matter. In today's blog, your Milford, CT attorneys take a look at the Connecticut grounds for filing divorce, as well as what to expect from the process.
CT Permits No Grounds Divorce
It goes without saying that divorce is an area of law that is no walk in the park. While sometimes ex-partners may be relatively amicable, for many, the process may be extremely stressful and fueled by strong, intense emotions. Moreover, your situation is not going to present in the same exact manner as someone else's, and you experience a specific set of parameters that are specific to you.
To help you through this difficult and trying time, our team takes the time to truly get to know you and your needs so as to pursue the optimal outcome for your situation. We will meet with you for a free initial consultation to go over the pros and cons of your case, what it will look like to pursue your matter, timeline, and more.
Grounds for divorce or union dissolution vary from state to state, so it is important to familiarize yourself with relevant statutes. For example, the state of Connecticut allows no-fault divorce on two primary grounds: if the marriage has broken down irretrievably, and on the grounds of separation. For more information about these grounds and what they mean, give our team a call today.
What is Fault-Based Divorce?
Another type of divorce that is pursued in Connecticut is a fault-based divorce. Fault-based legal matters must be able to be proven with specific evidence that a spouse's misconduct led to the failure of the marriage.
Specific examples of incidents that are considered fault-based offenses include adultery, willful desertion for at least 12 months, intolerable cruelty, habitual intemperance, and more. Give our office a call today to learn about your options and how our team can help.
Nonadverserial Dissolution of Marriage
In some situations, a partnership or marriage simply might not work out. In situations where a nonadverserial dissolution of marriage occur, conditions for obtaining such a separation are very strict and must be followed precisely.
Speak with Our Team
Contact The Law Office of Larracuente & Goulden, LLC in Milford, CT by calling 203-951-6688 to speak to one of our attorneys, and learn more about your family law rights in the state of Connecticut.