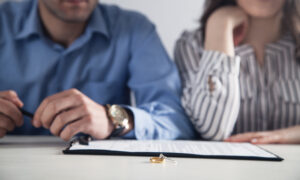 It takes a special kind of person to help with family law matters. After all, they are typically sensitive in nature, and especially in cases involving children, it is important to have someone on your side that not only prioritizes your family's best interests but contains the empathy and patience to help you through this difficult time. This notion is true for a variety of family-related matters, and our team is ready to help. In today's blog, your Milford, CT attorneys discuss the difficulties that may arise when traversing a legal divorce, as well as how we prioritize your situation and your best interests.
Typically, a Troubling Time
It goes without saying that most family matters are emotional to experience. More often than not, legal help is sought for situations involving divorce, child custody, child support, paternity, or some combination of a few of these issues. As such, each party is likely not seeing eye-to-eye. Not only does this lead to an increase in stress levels, it can potentially lead to hostility and confusion when it comes to any children involved in the process. After all, children are at important developmental areas in their lives, meaning this process impacts them tremendously.
Unfortunately for many, the act of enlisting legal services can make this process even more stressful in terms of time, cost, and emotional experience. This is where our team differs, however, as we take the time to truly get to know your needs and how we can best help you. What's more? You are not a case to us: you are a person, and you and your family's needs are our priority. To learn more about this process and how our team can help, give us a call today.
Understanding The Process
Though divorce law and legal matters sound as though they follow a specific pattern, the truth to this is that each and every case is unique and contains its own unique set of parameters. As such, it would be a disservice to blindly state how the process will unfold, as some aspects may or may not be applicable to your matter. During our free consultation, we will take the time to understand your situation and provide what laws may apply and what it would look like in terms of representation. Schedule your appointment today to learn more.
Achieving the Best Possible Outcome
The one given that our team will provide is that we will work tirelessly with your best interests in mind to achieve the best possible outcome for your matter. We recognize that there are often a number of moving parts, but we want to communicate that you are not a case to us, you are an individual for who we want to acquire justice.
Learn More Today
Contact The Law Office of Larracuente & Goulden, LLC in Milford, CT by calling 203-951-6688 to schedule your free initial consultation with our team today and learn more about the legal process surrounding divorce and separation in the state of Connecticut.