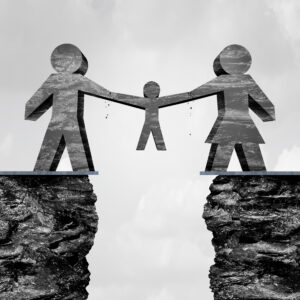 Knowing your options when presented with a potential legal matter is essential, however, it is not always so easy to find an attorney that will present your options in a consistent format. Indeed, if you are not certain where to look, you could be easily taken advantage of by sub-par representatives that do not have your best interests in mind. Fortunately, however, that is where our team differs significantly. In today's blog, your Milford, CT attorneys explain the manner in which we can provide assistance with your custody battle, as well as how we act with your best interests in mind.
Why Custody Must be Established
It goes without saying that family law in and of itself is a complex area of study. As a matter of fact, it is a blanket term that encompasses any and every legal process that involves families and unions. For example, child support, adoption, property settlement, and a myriad of other cases fall within this umbrella. As such, it takes a special kind of person to practice family law, one that is compassionate and understanding that it has the potential for significant emotional situations.
When we take a closer look at the law regarding children, we see that the primary role of a judge is to act with the child's best interests in mind. Indeed, we recognize that dissolving your marriage or civil union is a difficult process to go through, and it is important to also recognize how difficult it is for any children involved as well.
You see, custody is state-mandated, as two parents separating will inevitably provide different conditions for which a child must grow in. As such, it has to be established to ensure your children are properly cared for.
Intricacies of the Law
Custody proceedings can be tricky, as there are multiple considerations to make when determining ideal placement. For example, a judge will look at the income of both parents, any history of run-ins with the law, neighborhood safety, history of abuse or substance use, and so much more. Further, each case is unique in that it will not contain the exact same parameters as another, which means you could benefit from having a compassionate attorney on your side. To learn more about this process, reach out to our team and schedule your consultation today.
Providing Effective Assistance
As we mentioned before, any family matter has the potential to be emotional and complex, and as such, requires a combination of patience and a thorough understanding of the law. Our team will make sure to work tirelessly to help you acquire the best possible outcome in your matter.
Speak with Our Team
Contact The Law Office of Larracuente & Goulden, LLC in Milford, CT by calling 203-951-6688 to learn more about the intricacies of establishing custody, and schedule your initial consultation with our team today.