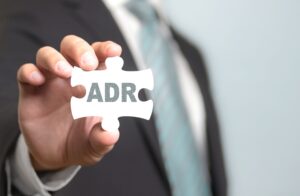 At some point or another in your life, you will experience some form of run-in with the law. This can be as simple as being pulled over for speeding or having representation in the execution of a will, or as complex as undergoing a divorce or seeking representation for a DUI charge.  While activity may spike at certain times of the year, that does not mean your rights are being upheld and protected during other times. In today's blog, your Milford, CT attorneys discuss what it means to settle a matter with alternative dispute resolution, as well as what the key differences are between mediation and arbitration.
What is ADR?
Contrary to popular belief, litigation is not the only way to settle a legal matter. Indeed, most individuals believe that a legal matter can only be addressed in court, as this is the traditional understanding of the process. The truth of the matter is, however, that each individual case is unique and contains unique parameters, and the manner in which your matter is settled depends greatly on these facets.
Indeed, one of the options that exist for a number of family and other matters alike includes the use of alternative dispute resolution (ADR). ADR is a blanket term that includes a few different methods that often utilize a third party as opposed to a courtroom setting, and can be used to settle a legal matter without having to commit to the arduous process of litigation.
Among the most common forms of ADR, mediation and arbitration stand out in particular. But what is the difference? For more information about this process, give our team a call today.
Understanding the Process
Although mediation and arbitration may follow a few similar practices, there are also a couple of differences. When a person utilizes ADR such as mediation, for example, two parties remain separated in two different rooms, and an unbiased third-party mediator takes turns going back and forth between the rooms to help the parties find a voluntary solution.
While arbitration is very similar in terms of setup, the primary difference is that it relies on a neutral third party to determine the outcome. In other words, the arbitrator serves as a private judge that is the primary control of the process. To learn more about this process, contact our office today.
Benefits and Cons
Though mediation and arbitration share a number of similarities, determining which option would be best for your case depends largely on the specifics of your particular case. Indeed, no one case is exactly the same as another, and it is always best to consult with a trained attorney to determine your next best steps.
Learn More Today
Contact The Law Office of Larracuente & Goulden, LLC in Milford, CT by calling 203-951-6688 to learn more about the benefits of alternative dispute resolution, and schedule your initial consultation with our team today.