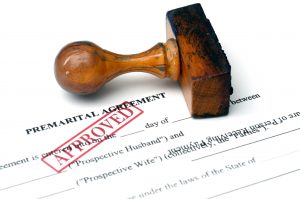 In last week's blog we discussed the nuances of law and how each case was unique in that different concepts can apply. What's more, litigation is not the only way to settle a matter, and a number of options can be exhausted first before having your day in court. Last week's blog brought up an interesting point about the negative connotation that surrounds legal disputes and matters and how they can be off, and a similar trend surrounds that of premarital agreements. In today's blog, your Milford, CT attorneys will take a look at what a premarital agreement actually is and how it can be useful in defining parameters within your marriage.
More Than Just a Prenup
Throughout life, the most common exposure to the concept of a premarital or prenuptial agreement most experience is through popular culture in the form of celebrity couples. Indeed, a common misconception is that this type of agreement is negative and meant to put one partner at a disadvantage should anything cause the relationship to diminish. On the contrary, however, these agreements are actually more often used to define legal rights within a marriage so as to ensure that both parties are on the same page about what roles and responsibilities each will assume upon marriage. It provides an accurate description of responsibilities and more that are to be upheld during a union or after in the event of dissolution. For more information about the function of a prenup, contact our team today.
Beginning on the Same Page
It goes without saying that every relationship has its ups and downs, a number of pairings can have many more downs than ups, and vice versa. There are countless stories, videos, documentaries, and more that detail tumultuous relationships in which both parties believed to be on the same page upon entering their union, but roles shift and aspects are not upheld as time goes on. Indeed, a number of marriages may result in divorce or separation simply due to a lack of transparency and communication, and the possibilities are limitless. In instances such as these, a premarital agreement could have been utilized to define specific rights and responsibilities.
Paving the Path for a Plan
Items that can be included in these legal contracts include estate rights, children's estate rights, parenting, how marital disputes or altercations can be handled, rights to funds and finances, who controls or owns bank accounts and real property, who receives benefits in the event of death, alimony or maintenance payments, and so much more. Having these discussions is an important part of a healthy and transparent relationship, and prenups can help facilitate them.
Consult with Our Team
For more information about understanding your legal rights during marriage, contact Larracuente & Goulden, LLC in Milford, CT by calling 203-951-6688 to set up your initial consultation today.