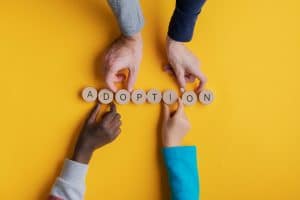 Many couples and individuals seek to start families at one point or another in their lives. Whether through natural conception, artificial insemination, in vitro fertilization, through a surrogate, or through the adoption process, there are a myriad of options you can pursue to do so. Regarding the process itself, however, it is pertinent you know what your rights are as an adoptive parent in the state of Connecticut and how you can seek the assistance of an experienced family attorney to make the procedure as simple and efficient as possible. Fortunately, the attorneys at Larracuente & Goulden, LLC in Milford, Connecticut have nearly 20 years of experience helping individuals and families do just that, and they are ready to help you too.
Legally Starting a Family
According to the Connecticut General Statutes, adoption is provided for under Title 45a, which states that the provisions of the statute are to be "liberally construed in the best interests of any child for whom a petition has been filed under said sections." Essentially, this means that the court will make sure that the child in question's best interests will be prioritized in order to enhance that child's quality of life and provide for adequate care and protection.
In the legal realm of family law, a claim for adoption consists of a formal agreement or contract that specifies the terms to receive and take care of the child(ren), coupled with official approval by a probate court. The process for filing and seeing it through can be strenuous, and it is crucial that each step is followed closely and correctly. If not, this could result in setbacks to your timeline, making the process take even longer, or even resulting in a denial to adopt.
Knowing Your Rights
In the state of Connecticut, the law permits single individuals, opposite-sex couples, and same-sex couples to adopt. This right was made available to LGBT couples and individuals in 2008, following the legalization of same-sex marriage.  In fact, the Connecticut Department of Children and Families campaigned for the encouragement of same-sex couples to seek to become parents in 2018. Regardless of your orientation or marital situation, laws are in place to assist you in the process of becoming a parent, and knowing your protections is vital.
How our Milford, Connecticut Attorneys Can Help
For many people, becoming a parent is an exciting, life-changing goal, and one that might not be as simple to accomplish as previously anticipated. Throughout the many options to becoming a parent, the adoption process offers a legal way to achieve this goal. If you are in need of a compassionate attorney to help you through this process, contact our Milford, Connecticut office today at (203) 951-6688 to find out how the office of Larracuente & Goulden, LLC can assist you today.