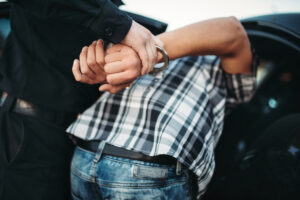 Being arrested and charged with a crime can be an incredibly upsetting experience. At these points, it is often difficult to do the right thing, as you are so anxious about the situation. In these times, it is always your best bet to speak with an attorney before you decide to make any moves, because as the law dictates, anything you say can and will be held against you in a court of law.
If you have recently been arrested, take the time to meet with our team at The Law Office of Larracuente & Golden in Milford, CT. Our expert attorneys will start by giving you a little bit of understanding into the seriousness and implications of your case. After that, we can discuss your possible options in strategy to move forward to avoid or lessen your possibility of receiving a serious criminal conviction. Every case is different, so talk with a talented attorney about your next steps after you have been arrested.
Speaking With Your Attorney Is A Protected Right. Use It When You Are Arrested.
One common mistake that people often make is to try to be helpful when speaking with police. This is not to say that it is beneficial to be combative with law enforcement, but it is helpful to remember what their job is in this situation. They are here to detain people who are suspected of committing a crime until criminal charges can be filed. Law enforcement also gathers evidence to share with the District Attorney's office.
At none of these points are they your friend, and if they have arrested you, that is because they suspect that you may be a party to a criminal situation. In this situation, you want to talk with your trusted attorney quickly, and keep your words to police to a minimum. We are here to help you avoid making any mistakes with your words.
After Your Arrest, Make A Plan For Your Next Steps
When you are arrested, you will need to figure out your next legal moves. This can include posting bail in order to remove yourself from police custody. After that, you and your attorney need to work together to develop a strategy in handling your case with the District Attorney's office. Waiting to speak to an attorney can give the other side more time to gather evidence against you, so every moment that you hold off can lead to difficulties in defending yourself. Talk to a legal team quickly after your arrest.
Find Out More With Our Milford, CT Criminal Defense Attorneys
If you have been arrested, don't go it alone. To learn more, give us a call today at The Law Office of Larracuente & Goulden, LLC in Milford, CT at (203)951-6688.