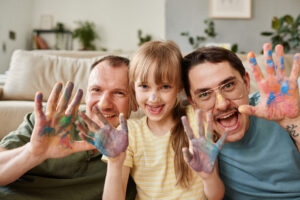 For members of the LGBTQ+ community, it can be a trying time. It seems as though your rights are being questioned at every turn these days, so it is important to have an advocate by your side when you need to protect yourself, and one area in which you have decided rights is during the adoption process. But even despite the United States Supreme Court's 2017 ruling on adoption equality, you might run into people along the way who are not as supportive of your decision.
In order to keep the emphasis on your legal rights, take the time to speak with an attorney who is dedicated to fighting for adoption equality. When you are thinking about expanding your family, talk to our team at The Law Office of Larracuente & Golden in Milford, CT about your situation. We are here to help you to keep everyone on the right side of the law, which allows same-sex partners to have equal rights during adoption. As a committed advocate, we are here for you through every step of the way!
The Supreme Court Has Ruled That You Have Adoption Rights
Up until a few years ago, the laws regarding same-sex adoption were decided by the states. This led to a collection of different rules, depending on where you live. Then, in 2017, the United States Supreme Court released a ruling that changed things. This decision stated that same-sex couples could legally be listed as parents, making LGBTQ+ adoption legal in all states.
In 2022, Congress repealed the Defense of Marriage Act, as well. In addition to forcing all states to respect valid marriages from other states, the 2022 Respect for Marriage Act protects the adoption rights of certain groups. This includes LGBTQ+ individuals, as well as interracial couples.
Have An Advocate By Your Side To Protect Your Rights During Adoption
While the Supreme Court's ruling is decidedly clear, you still want to have a trusted team of attorneys with you along the way. Simply put, you never know when a prejudiced bureaucrat will try to hinder your adoption process. When you are looking to expand your family, talk to a talented adoption lawyer about your rights and responsibilities.
As proud supporters of the LGBTQ+ community, we are here to help. Speak with our staff about your goals and discover the advantages of having a dedicated attorney during same-sex adoption!
Fighting For You During Adoption In Milford, CT
As an LGBTQ+ family, you have protections in place to ensure that your adoption rights are upheld. For more information, speak with a member of our team at The Law Office of Larracuente & Goulden, LLC in Milford, CT at (203)951-6688, and learn more about how we can help you through the process.