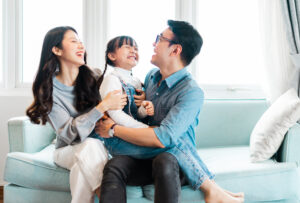 Adoption can be one of the most gratifying things in life, but the legal process can also be a struggle. When you are looking to adopt a child in the state of Connecticut, take the time to speak with a knowledgeable attorney about your situation. Talented legal counsel can give you the tools you need to feel comfortable through every step of the way. Understands your rights and responsibilities with a team who works tirelessly for the success of your family.
At The Law Office of Larracuente & Golden in Milford, CT, we are here to guide you through the legal process of your adoption. We take this duty seriously, and we want to ensure that families of all backgrounds have access to all of their rights. For this reason, we are proud to help LGBTQ+ families so that they can feel comfortable knowing that they have an advocate fighting for their new family. When you need help through the adoption process, talk to a member of our team!
Have A Talented Attorney By Your Side To Fight For Your Rights
For any new adoptive parent, the process can seem overwhelming and confusing. In these times, talk to a team of helpful attorneys about your specific situation and discover the advantages of a skilled legal team. Even if you have only recently begun the discussion of adoption, it can be beneficial to have counsel with you from the start. Take the time to talk with an attorney about your next steps.
The steps in legal adoption can include home welfare and background checks to ensure that you can be a fit parent for this new child, so speak to us about any concerns you may have. If one or both of you have a prior conviction, it may be helpful to work toward an expunction, if possible.
LGBTQ+ Families Have Equal Adoption Rights From The Supreme Court
For LGBTQ+ couples, adoption can seem like an even more difficult situation. If you are feeling like you might experience biases due to your sexual orientation or gender identity, knowledgeable legal counsel can help you to make sure the process stays above board.
The Supreme Court has ruled that LGBTQ+ families have the same rights as other couples in adoption, but that does not necessarily stop implicit biases from impacting your family. Know your rights with a team of helpful lawyers!
Learn More About Connecticut Adoption With Our Team In Milford, CT
When you are looking to adopt a child, talk to our team about your rights and responsibilities through the process. For more information on how we help adopting families, give us a call at The Law Office of Larracuente & Goulden, LLC in Milford, CT at (203)951-6688.