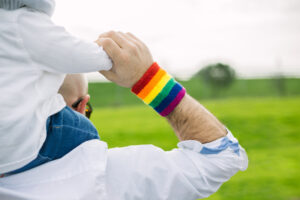 In this current social climate, it may feel as though we are losing ground on some of the progress that we have made. In order to best protect yourself and your family during the adoption process, reach out to a caring legal team that keeps your needs in mind. Since 2017, the United States Supreme Court has recognized that LGBTQ+ individuals are afforded the same rights in adoption, and it is important that we hold the system to that standard.
At The Law Office of Larracuente & Golden in Milford, CT, we understand the challenges that can arise when welcoming a wonderful new member into your family. Enter into this process with a lawyer who is dedicated to ensuring that you have equal protection and rights under the law. Understand your options, and hold those in power accountable to the Supreme Court's decision on adoption with legal counsel devoted to helping you expand your family!
The United States Supreme Court Is Clear On The Topic Of LGBTQ+ Adoption
In 2017, the Supreme Court ruled that people of all sexual orientations are able to adopt children without fear of discrimination. While this right is now fully enshrined as constitutional, sometimes it can be difficult to persuade the individuals involved in the system. Even with the best of intentions, some workers may struggle with the idea of equal rights in the adoption process, and some can be downright discriminatory.
In order to protect yourself, work with a legal team that truly understands your situation. We proudly specialize in the care of these types of cases, so take the time to speak with us about your options. As typical with legal needs, early representation can help you to avoid becoming tripped up by the system. This can be an emotional topic for many, as well, so rely on your counsel to help you to make the right choices.
Navigating The Complex World Of Adoption With A Helping Hand
For any couple, the process of bringing in a new member to your family can seem overwhelming. In order to best understand the legal adoption steps in Connecticut, rely on the experience and know-how of a dedicated attorney to help you receive results. Your adoption can include background checks and home visits, so work early to ensure that you do not experience issues or delays. We work with you, so that you can focus on preparing for your new addition!
Keeping Your Adoption Rights At The Forefront In Milford, CT
For more information about how we fight for LGBTQ+ rights in the state of Connecticut, call The Law Office of Larracuente & Goulden, LLC in Milford, CT at (203)951-6688. We are here to help ensure that everyone in the process stays in accordance with the decision of the Supreme Court.